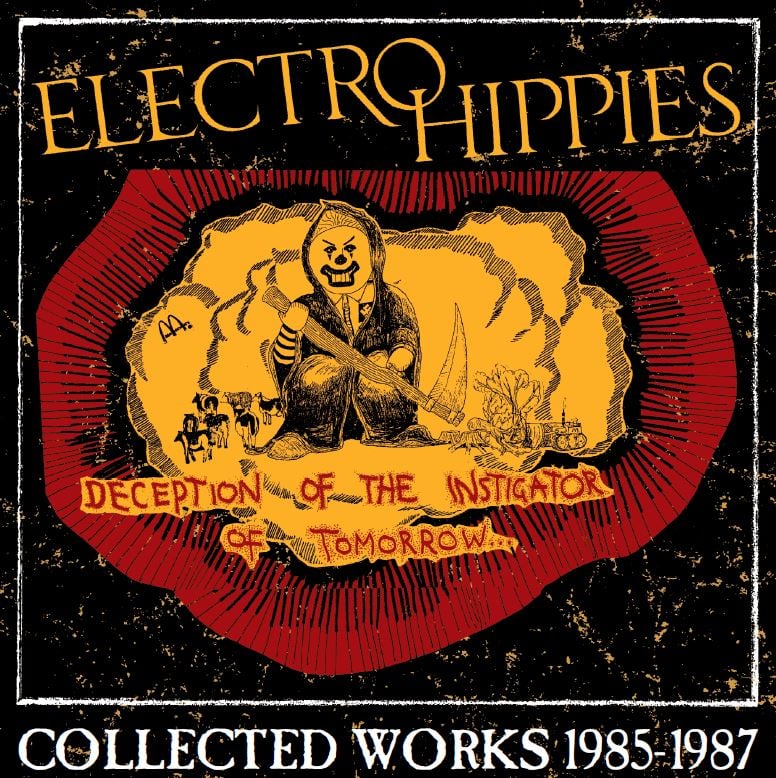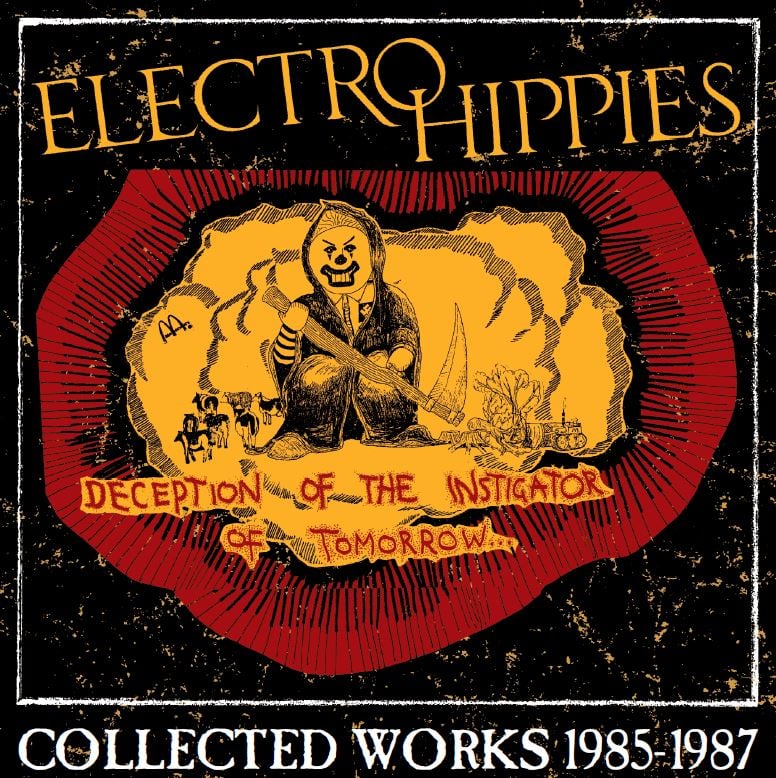 Electro Hippies : Deception Of ..: Collected Works 1985-87 Double LP With CD Included
by Electro Hippies
£16.00
***IN STOCK NOW!!**
ELECTRO HIPPIES need no introduction to anyone familiar with UKHC in the mid to late '80s.
Now, for the first time, their recordings that predate their records for Peaceville are collected together officially, including their solitary Peel Session, split LP tracks, their two studio demos and many live and rehearsal tracks previously unheard outside of the band.
Released in conjunction with the band, and including liner notes by Simon, as well as lyrics, photos, posters and more, this is a must own collection for any fan of 80s UKHC.
There is a special mail order only coloured vinyl version only available directly from Boss Tuneage, which is strictly limited to the first 200 orders on a first come, first served basis.
There is also another option (see our listings) for ordering the vinyl with a classic ELECTRO HIPPIES T shirt design in the size of your choice
SIDE A
JOHN PEEL SESSION , RECORDED 12TH JULY 1987 (FIRST TRANSMISSION 20TH JULY 1987)
01 SHEEP
02 STARVE THE CITY (TO FEED THE POOR)
03 MELTDOWN
04 ESCAPE
05 DEAD END
06 THOUGHT
07 CHICKENS
08 MOTHER
09 MEGA-ARMAGEDDON DEATH
LIVE IN BIRMINGHAM, 13 JUNE 1987
10 MELTDOWN
11 MOTHER
12 SHEEP
13 THOUGHT
14 DEAD END
15 VIVISECTION SONG
16 LIFE
SIDE B
IF KILLING BABIES IS TIGHT….
…KILLING BABIES FOR PROFIT IS TIGHTER (SECOND DEMO, JANUARY 1987)
01 INTRO (DEATH IN THE SWAMP) / SATANIC WARMONGER OF THE ABYSS
02 MELTDOWN
03 AT THE EDGE
04 MOTHER
05 REJECT
06 SHEEP
07 DEAD END
08 LIFE
REHEARSAL RECORDING FOR HICKY'S COMP, 23RD DECEMBER 1986
09 TERROREYES
10 AM I PUNK YET?
11 VIVISECTION SONG
SIDE C
PLAY FAST OR DON'T (SPLIT LP WITH GENERIC), 14TH / 15TH JULY 1986
01 INTRO (WRATH OF MICHAEL)
02 ACID RAIN
03 RUN RONALD
04 WINGS OF DEATH
05 TERROREYES
06 THEME TOON (FRASH IT OUT)
07 AM I PUNK YET?
08 THE REAPER
09 NEXT TIME
10 VIVISECTION SONG
11 PROFIT FROM DEATH
12 MEGA-ARMAGEDDON DEATH PT 3
13 THE HORN OF HADES
LIVE IN MANCHESTER , 30TH JUNE 1986
14 UNITY
15 RUN RONALD
16 LIFE
16 MELTDOWN
SIDE D
REHEARSALS FOR SPLIT LP, 27TH MAY 1986
01 UNTITLED INSTRUMENTAL
02 STAND PROUD
KILLING BABIES IS TIGHT (1ST DEMO) , 3RD MARCH 1986
03 INTRO
04 UNITY
05 RUN RONALD
06 WINGS OF DEATH
07 VIVISECTION SONG
08 SAY GOODBYE NOW
09 OUTRO
PRACTICE RECORDING, 3RD JUNE 1985
10 FOOD BOWL
11 WATFORD GAP
12 REJECT DETECT
13 SMILE
14 CATTLE
FIRST EVER PRACTICE, 23RD FEBRUARY 1985
15 AM I PUNK YET?
16 HIDE.. WHERE?
Also includes a CD in PVC Wallet of all 60 tracks