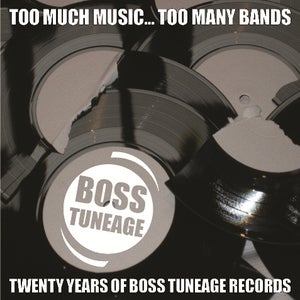 £

5.00 - On Sale
A GREAT WAY TO SAMPLE OUR RELEASES!!!!

ABOUT:
Celebrating 20 years of BOSS TUNEAGE, we have come a long way since our first release in 1990 (the GOOBER PATROL / VEHICLE DEREK split 7") – over 280 releases have followed in the past two decades, and this 4CD boxset celebrates and documents the history of Boss Tuneage - and has been the biggest project we have ever undertaken!
CD1 is entitled "the originals" and contains an overview of some of the standout tracks from our standout releases past and present, CD2 is entitled "the reissues" and features tracks taken from the Boss Tuneage Retro Series imprint, CD3 is subtitled "the covers" and features Boss Tuneage bands performing cover versions of other bands from the label (the vast majority have been specially recorded for this release) whilst CD4 contains rare, unreleased and out of print recordings from the archives – many of which have never been on CD before.
In total, 120 tracks, including 27 previously unreleased with a further 50 tracks either out of print or never been on CD before. Coupled with a thick booklet containing extensive liner notes including a full and detailed discography and lots of memorabilia and previously unseen photos, this 4CD set is strictly limited to 1000 copies worldwide and will not be repressed, so represents a stunning document of the first twenty years of our label.

FORMAT: 4 x CD SET
TRACKLIST:
CD1 – THE ORIGINALS:

1. ANNALISE – Signposts And Alleyways 2. THE GREAT ST LOUIS – Closest Enemies 3. BLOCKO – Fibs 4. WOOLWORTHY – Pretty With Me 5. THE JONES – Wilton Road 6. MIDWAY STILL – Drag To Care 7. SCOTT REYNOLDS – Cuda 8. MANIFESTO JUKEBOX – Truths Yesterday 9. K-LINE – Count It Down 10. THE SHITTY LIMITS – Swallowed Whole 11. STEAKKNIFE – Parallel Universe Of The Dead 12. MILLOY – Propofol 13. BIG DRILL CAR – Eye A Door 14. PAVERS – Teacup 15. TV SMITH – Clone Town 16. HARD ONS – Give Me Arse A Haircut 17. THE UNKNOWN – Disappear 18. BENNY – Shit Yer Pants 19. FOUR LETTER WORD – Unfinished Symphonies 20. VIOLENT ARREST – Oppenheimer 21. GERIATRIC UNIT – Audit Of Enemies 22. COLT SEAVERS – bltbltb 23. STUPIDS – Zero 24. YOUTH OF STRENGTH – Kaliber 25. NEW SET OF BRUISES – Day Destroy Me 26. KICK JONESES – The Rain And The River 27. SCARPER! – Blue Collar 28. WORDBUG – Everything's Gone 29. VEHICLE DEREK – Cake 30. BITTER PILLS – Kiro 31. IPANEMA – Vote For Pedro

CD2: THE REISSUES:

1. HERESY – Follow Suit 2. STUPIDS – Heard It All Before 3. SPERMBIRDS – You're Not A Punk 4. HDQ – Leaving Home 5. EXIT CONDITION – Zero Gain 6. VISIONS OF CHANGE – Roundabouts And Swings (Demo Version) 7. DAN - Shake Your Foundations 8. CAN'T DECIDE – Haven't We Met Before 9. JOYCE McKINNEY EXPERIENCE – Try 10. SOFAHEAD – Make It Worse 11. LIFE BUT HOW TO LIVE IT? – Green 12. DRIVE – Greasegun 13. THE ABS – Engelbert Humperdink's Racing Pigeon14. HARD ONS – Just Being With You 15. BIG DRILL CAR – A Take Away 16. ASEXUALS – So Alone 17. JINGO DE LUNCH – What You See 18. COWBOY KILLERS – Poor Me 19. GAN – Too Much TV 20. PERFECT DAZE – Flames 21. SLEEP – Frightened People 22. SHUTDOWN – Broken 23. DECADENCE WITHIN – So Much For Their Law 24. RIPCORD – Drugshit (Live) 25. FUAL – Yes You! 26. TERMINUS – Hunt The Hunt 27. POLITICAL ASYLUM - Do They Care 28. DEPRAVED – It'll Happen Again 29. MAD AT THE SUN – When Visions Becomes Blurred 30. COOLEST RETARDS – Buthole 31. DIE WALTER ELF – Kaiserslauten

CD3 – THE COVERS:

1. HARD ONS – One Chord Wonders 2. ONE CAR PILE UP – All Set To Go 3. JOHN KASTNER – When You're Not Around 4. SOUTHPORT – Same Mistake Twice 5. VANILLA POD – Timothy 6. WOOLWORTHY – Love Goes Plaid 7. THE TANK – No Worse For The Wear 8. FOUR SQUARE – Burning Bridges 9. BROCK PYTEL – Fountains 10. BEDFORD FALLS – Dear You Dear 11. VARSITY DRAG – White Cat In A Snowstorm 12. TEXTBOOK – Holden 13. BLOCKO – Vegan In Furs 14. DOWN AND OUTS – Where Did She Come From 15. THE MAGNIFICENT – Optimism 16. PUNCHBUGGY – Daylight 17. THE DOUBLECROSS – Today I'm Going To Live 18. NOT TONIGHT AND THE HEADACHES – Little Bitch 19. RISE – Call Of The Wild 20. EXIT CONDITION – A Friendship Lost 21. SOFAHEAD – Fighting Chance 22. JASUN BUG AND THE FUN SKIM-VERS – Postcard 23. THE STAND GT – When Love Puts On A Sad Face 24. RESTLESS HABS – Down Around 25. SECTION 13 – Something To Prove 26. VIOLENT ARREST – Empty Faces 27. THE UNKNOWN – Group Think

CD4 – The Rare, Unreleased And Out Of Print:

1. STUPIDS – Rock Gods 2. SOUTHPORT – The Last Time 3. THE SHITTY LIMITS – Espionage 4. DUNCAN REDMONDS – Rue The Day 5. CHILLERTON – Searching 6. SINK – Amanush 7. CHINO – Uno Mas 8. BAREFOOT – Face First 9. SERPICO – Winter (Demo Version)10. TV SMITH – Imagination 11. HARD ONS – Will You Fuck Off About What Tomorrow Will Bring 12. GOOBER PATROL – Mind The Gap13. BABY LITTLE TABLETS – Hate To Love 14. THE PAVERS – Message 15. THE GREAT ST LOUIS – Worlds Collide 16. THE PHOENIX FOUNDATION – Dawn Will Fade Away 17. LA MOTTA – Love California 18. CHOCOLATE – Customer 19. BLOCKO – Opinion 20. SHOOTER McGAVIN – Broken Melody 21. X ONE WAY X – Eyjafjallajökull is a Fucking Sellout 22. WAT TYLER – The Vicar And I 23. BENNY – Kumbyah 24. GEOFFREY OI!COTT – Glory Glory Gary Thompson 25. HATE FUCK TRIO – My Girl Do Not Think I Funny26. FIVE FOOT NOTHING – Fluffo 27. EXIT CONDITION – Our Hero 28. ELMERHASSEL – Suffocated 29. WANTON THOUGHT – Cruelest Joke 30. DAMAGE – You Say 31. VEHICLE DEREK – One