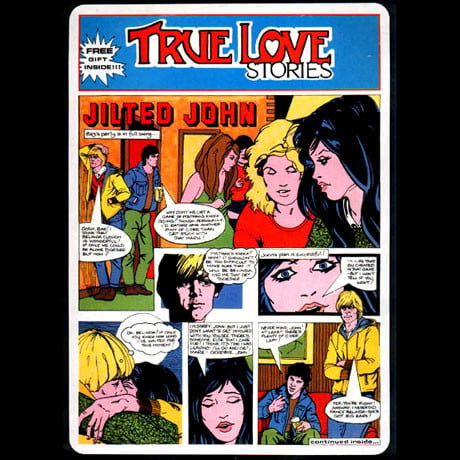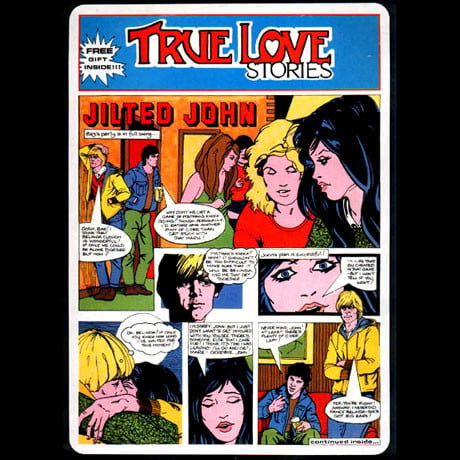 JILTED JOHN - TRUE LOVE STORIES 40TH ANNIVERSARY EDITION LP + 7"
by Jilted John
£15.00 / Sold Out
**IN STOCK NOW!!**
JILTED JOHN is the legendary punk/new wave creation of Graham Fellows (nowadays better known as JOHN SHUTTLEWORTH) who's eponymous single was released back in 1978, rising to Number 4 in the charts and selling nearly half a million copies in the process, and became the most hated song by people called Gordon ever released with its anthemic "Gordon is a Moron" chant. The single was followed by cult classic album "TRUE LOVE STORIES", which has been name checked by many as a real inspiration to the likes of Jarvis Cocker and more with its concept album of the trials and tribulations of Jilted John's teenage angst.
Fast forward to 2018, and to co-incide with a JILTED JOHN 40th anniversary tour, here is a rather special 40th Anniversary Edition of not only the classic album, which has been out of print on vinyl for over 35 years, but also the legendary 7" single included complete in picture sleeve as per the original Rabid Records release back in 1978!. The package also includes new liner notes from Graham Fellows, and a replica of the original "Mice And Ladders" board that featured in the very initial pressing, and collectors have been searching high and low for in copies for the past 40 years!
This album is an essential part of the UK punk and new wave history, and its fantastic to be able to make this available again on vinyl, with the classic single as a bonus to boot!
First pressing is on random colour/mix effect vinyl!
TRACKLISTING:
A1. BAZ'S PARTY
A2. I KNOW I'LL NEVER
A3. I WAS A PRE PUBESCENT
A4. FANCY MICE
A5. JILTED JOHN
A6. THE BIRTHDAY KISS
B1. THE PAPERBOY SONG
B2. TRUE LOVE
B3. IN THE BUS SHELTER
B4. KAREN'S LETTER
B5. SHIRLEY
B6. GOODBYE KAREN
BONUS REPLICA "JILTED JOHN" 7" IN PICTURE SLEEVE (also on random mix/colour effect vinyl)
C1. GOING STEADY
D1, JILTED JOHN