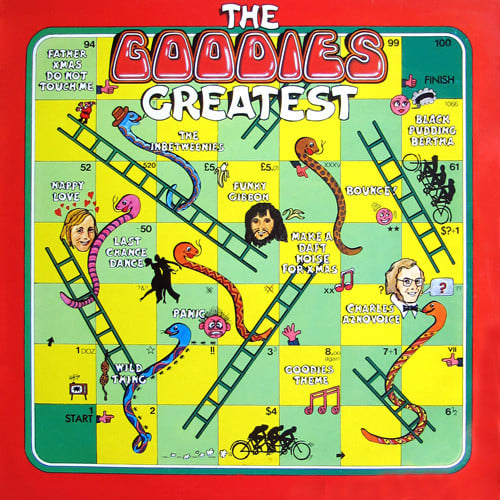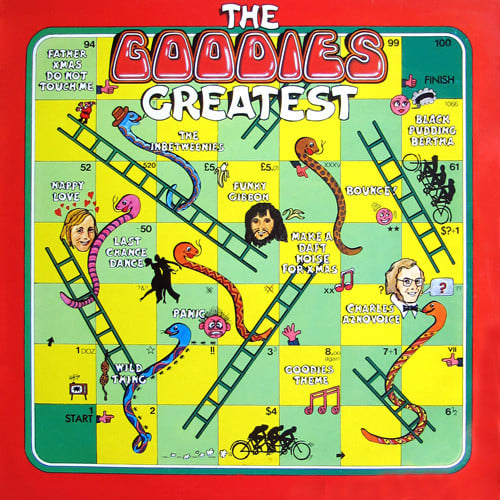 THE GOODIES - THE GOODIES GREATEST CD
by The Goodies
£7.20
**IN STOCK NOW!!**
THE GOODIES need little introduction to anyone of a certain age who grew up with them! The comedy trio of Bill Oddie, Graeme Garden and Tim Brooke Taylor delighted and made children and adults alike laugh with their antics on a string of TV series throughout the 70s and into the early 80s, predominantly for the BBC, and later on, ITV.
Meanwhile from the period of 1974-1976, they also became a very successful pop act! With a string of Top 30 hits, including "THE FUNKY GIBBON" (No 4), "THE INBETWEENIES/FATHER CHRISTMAS DO NOT TOUCH ME" (No 7), "BLACK PUDDING BERTHA" (No 19), "MAKE A DAFT NOISE FOR CHRISTMAS" (No 20), and "NAPPY LOVE / WILD THING" (No 21).
All these hits and several other corkers, including the legendary "The Goodies Theme" tune from the TV show can be found on "GOODIES GREATEST", the first time ever CD reissue of the GOODIES greatest hits compilation from 1976! Package with original sleeve artwork, and following on from the recent BBC boxsets of the TV shows, this is a perfect stocking filler accompaniment!
Released by WMM and packaged in a gatefold CD wallet recreating the original album artwork
1 GOODIES THEME
2 FUNKY GIBBON
3 THE INBETWEENIES
4 NAPPY LOVE
5 LAST CHANCE DANCE
6 FATHER CHRISTMAS DO NOT TOUCH ME
7 BLACK PUDDING BERTHA
8 BOUNCE
9 PANIC
10 MAKE A DAFT NOISE FOR CHRISTMAS
11 CHARLES AZNOVOICE
12 WILD THING